NXT-ID, Inc, (NASDAQ: NXTD) - March 25, 2015


NXT-ID News: Technology Research Note Update from SoundView; Real-World Usage and Feedback of Wocket Smart Wallet at CVS, Whole Foods and other Retailers
NXT-ID's Wocket Smart Wallet to Launch New CNBC Regional TV Ad Campaign
SHELTON, Conn., (PR Newswire) - NXT-ID, Inc. (NASDAQ:NXTD) - a biometric authentication company focused on the growing mobile commerce market, announces its biometric payment technology, the Wocket® smart wallet, will start a new advertising campaign on CNBC television starting March 30th .

The new 30 second ads will commence airing in New York markets.

Gino Pereira, Chief Executive Officer said: "We are excited about our new ad campaign following the recent initial shipment of Wocket smart wallets. We believe consumers are ready to embrace our secure payment technology and as David Tunnell, our CTO, says in the ad, we're excited to put a wocket in your pocket."


BOSTON, Mass, /PRNewswire/ -- SoundView Technology Group issues a new research update following the recent shipment of NXT-ID's (NASDAQ: NXTD) Wocket smart wallet. SoundView was one of the selected user groups to provide real- world user feedback on their experience with the Wocket in multiple scenarios and outlets.
http://s3.amazonaws.com/PUBLISHED/NXT-ID_NXTD_SV_NOTE_MAR_2015_PUB.pdf

Soundview shares their experience at CVS, Whole Foods and other retailers, making both debit and credit card payments.

Soundview analyst Kris Tuttle also says, "If the company meets their plans in 2015, it would push our IV estimate up to $17.42 for 2016."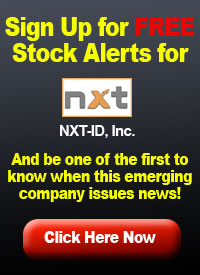 NXT-ID, Inc. (NASDAQ:NXTD) is a biometric authentication company focused on the growing mobile commerce market.

Excerpt: The Wocket Arrives

NXT-ID (NXTD $3.87)

THE WOCKET ARRIVES

KRIS TUTTLE – MARCH 23, 2015

Company Update

After months of hard work and anticipation the Wocket has shipped. This event addresses the first chorus of skeptics who have insisted that "the Wocket will never ship." Even within the limits of an "early access device" our initial testing has gone very well in outlets ranging from CVS to Whole Foods to Panera using Visa (in both debit and credit mode) as well as American Express cards.

So the most interesting real-world interaction occurred in a CVS where the "hand card to cashier" message popped up. I had prefaced my swipe with the comment that I was using "a new ultra secure credit card" and when I handed over she responded "oh is this one of those cards where you can store all your cards on?" To which I replied yes indeed and she simply said "cool" and handed it back.

Even after a few days of use I was comfortable with the Wocket to head out for an evening without my wallet – just a few dollars in cash and my license. Having misplaced my wallet a week or two ago I can also say that the anxiety level from misplacing your Wocket is much, much lower. I wouldn't want to lose my Wocket but would feel none of that fear and panic that comes from losing my wallet with "everything in there." In fact by having all the plastic cards safely at home I wouldn't actually lose anything or need to change out all my cards to new account numbers. Getting a new Wocket and reloading the cards would be minor job but far less than cancelling accounts, refuting fraudulent charges and having new cards issued.

Anecdotes are not rigorous market research but the awareness level of the technology was a surprise and comfort level with the thing itself was reassuring. NXT-ID is using the input from early access users while preparing for their first production run to begin to fill pre-orders beginning in late April. The next production milestone is to deliver between 5,000 and 10,000 units in June.

The progress over the last two months certainly makes us feel comfortable with our 40,000 unit estimate for 2015 in terms of production capability.

Stock Conclusion

So after suffering from a prolonged "wait and see" attitude the stock has moved up sharply recently in response to the initial shipments. Our own experience with the device so far would reinforce the view that 2015 will be a good year for the Wocket and NXTD shareholders.

The two major risks remaining are 1) the ability to ramp up production to thousands of units at first and then tens of thousands per month and 2) mainstream consumer reactions and adoption.

Our IV of $8.18 makes the shares very attractive, albeit with some expectation of success built into the estimate. If the company meets their plans in 2015, it would push our IV estimate up to $17.42 for 2016.

Our full update is available for download here:

http://s3.amazonaws.com/PUBLISHED/NXT-ID_NXTD_SV_NOTE_MAR_2015_PUB.pdf

Wocket is a smart wallet designed to protect your identity and replace all the cards in your wallet, with no smart phone or cloud required. Wocket works anywhere credit cards are accepted and only works with your biometric stamp of approval.

All your credit, debit, loyalty, gift, ID, membership, insurance, tickets, medical information, passwords, and virtually any other card can be protected on Wocket.

www.wocketwallet.com

About SoundView Technology Group

http://soundview.co/

We are an independent advisory and research firm specializing in emerging technologies as they reach commercialization. Our proprietary research and modeling work provides valuable information for company management teams and investors in these emerging opportunities. We regularly publish our findings across a variety of channels including all the major retail and institutional information outlets. SoundView is based in Boston, Massachusetts with locations in New York and Connecticut.

Disclosures

SoundView analysts do not receive compensation for their research opinions, any specific views or conclusions. They are tasked to provide fact-based research with sound analysis. SoundView does not provide investment advice or make "buy/sell/hold" recommendations. Nor do we provide investment banking or brokerage services. We act as a publisher of our own research work and are responsible for all content which is correct to the best of our abilities but by no means should it be relied upon without further validation and confirmation. SoundView provides paid advisory services NXT-ID on their business plans, technology description and investor positioning

Any questions please contact:
Kris Tuttle
Director of Research
SoundView Technology Group
kris@soundview.co
+1-617-828-6462

To view the original version on PR Newswire, visit:http://www.prnewswire.com/news-releases/technology-research-note-update-from-soundview-real-world-usage-and-feedback-of-wocket-smart-wallet-at-cvs-whole-foods-and-other-retailers-300054676.html

---
Disclaimer
FN Media Group LLC (FNMG) owns and operates FinancialNewsMedia.com (FNM) which is a third party publisher that disseminates electronic information through multiple online media channels. FNMG's intended purposes are to deliver market updates and news alerts issued from private and publicly trading companies as well as providing coverage and increased awareness for companies that issue press to the public via online newswires. FNMG and its affiliated companies are a news dissemination and financial marketing solutions provider and are NOT a registered broker/dealer/analyst/adviser, holds no investment licenses and may NOT sell, offer to sell or offer to buy any security. FNMG's market updates, news alerts and corporate profiles are NOT a solicitation or recommendation to buy, sell or hold securities. The material in this release is intended to be strictly informational and is NEVER to be construed or interpreted as research material. All readers are strongly urged to perform research and due diligence on their own and consult a licensed financial professional before considering any level of investing in stocks. The companies that are discussed in this release may or may not have approved the statements made in this release. Information in this release is derived from a variety of sources that may or may not include the referenced company's publicly disseminated information. The accuracy or completeness of the information is not warranted and is only as reliable as the sources from which it was obtained. While this information is believed to be reliable, such reliability cannot be guaranteed. FNMG disclaims any and all liability as to the completeness or accuracy of the information contained and any omissions of material fact in this release. This release may contain technical inaccuracies or typographical errors. It is strongly recommended that any purchase or sale decision be discussed with a financial adviser, or a broker-dealer, or a member of any financial regulatory bodies. Investment in the securities of the companies discussed in this release is highly speculative and carries a high degree of risk. FNMG is not liable for any investment decisions by its readers or subscribers. Investors are cautioned that they may lose all or a portion of their investment when investing in stocks. This release is not without bias, and is considered a conflict of interest if compensation has been received by FNMG for its dissemination. To comply with Section 17(b) of the Securities Act of 1933, FNMG shall always disclose any compensation it has received, or expects to receive in the future, for the dissemination of the information found herein on behalf of one or more of the companies mentioned in this release. For current services performed FNMG has been compensated one thousand four hundred dollars for news coverage of the current press release issued by NXT-Id, Inc. by the company.

This release contains "forward-looking statements" within the meaning of Section 27A of the Securities Act of 1933, as amended, and Section 21E the Securities Exchange Act of 1934, as amended and such forward-looking statements are made pursuant to the safe harbor provisions of the Private Securities Litigation Reform Act of 1995. "Forward-looking statements" describe future expectations, plans, results, or strategies and are generally preceded by words such as "may", "future", "plan" or "planned", "will" or "should", "expected," "anticipates", "draft", "eventually" or "projected". You are cautioned that such statements are subject to a multitude of risks and uncertainties that could cause future circumstances, events, or results to differ materially from those projected in the forward-looking statements, including the risks that actual results may differ materially from those projected in the forward-looking statements as a result of various factors, and other risks identified in a company's annual report on Form 10-K or 10-KSB and other filings made by such company with the Securities and Exchange Commission. You should consider these factors in evaluating the forward-looking statements included herein, and not place undue reliance on such statements. The forward-looking statements in this release are made as of the date hereof and FNMG undertakes no obligation to update such statements.